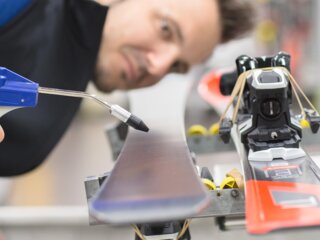 Ski servicing in Ellmau
INTERSPORT Winkler gets your surface and edges fit again
Top ski servicing
For more fun on the slopes
Do your skis already have the right sanding and perfect edges? Our place is just full of passion for skiing fun. Our staff concentrate on preparing your skis – so there is nothing standing in the way of the next ski season or the rest of the ski season.
In addition, we can also provide you with the perfect binding settings for you, adapted to your needs.
Depending on the service, we offer:
Surface waxing
Sanding edges
Repairing scratches
For ski enthusiasts: sports tuning
Pop by and see our unique servicing for yourself! Right by the Hartkaiserbahn bottom station or directly in the centre of Ellmau.
Surface waxing
with premium wax
Sanding edges
hanging at 89 °
Repairing scratches
repair rough scratches by hand
Ski service shops in Ellmau
INTERSPORT Winkler - 2x at skiing area Wilder Kaiser