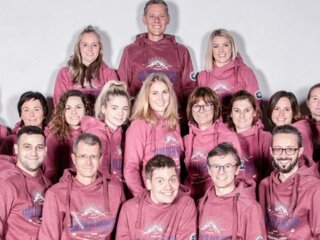 About us
We are INTERSPORT Winkler
Always there for you
The heart of sport
The staff at INTERSPORT Winkler are sports enthusiasts, eager to learn and one thing above all: a team. The interaction of different characters with different sports interests makes the personal service and shopping experience unique.
Sports retailers with tradition
In family hands since 1958
2 generations – 2 branches – 30 employees – a wealth of experience.
The founders are Maria and Georg Winkler. It all started quite small and modestly with skis, poles, sledges, hats and gloves. The demand increased and just 5 years later, the main shop was built in the centre, which basically still exists today. The product range changed to suit the demand.
Sporthaus Winkler joined the INTERSPORT purchasing cooperative in 1975.
In 1993 Georg Winkler jun. took over the company, which opened the branch at the Hartkaiserbahn bottom station in 2005.
"The employees are our strength," said Winkler. "We are not a discount store – our main expertise is good advice and we offer good value for money."
The mix of loyal regular customers, satisfied and faithful employees, a family-like working atmosphere and great emphasis on training is what makes INTERSPORT Winkler so special.
What unites these people is their love for sport.
Milestones
From the beginning to now
1958 1st shop founded by Maria and Georg Winkler senior on 30 m².
1963 Construction of the today's main shop in Ellmau
1975 Expansion of the main shop and membership in the Intersport purchasing cooperative
1978 Opening of the Ellmau village centre location
1993 Takeover of the company by Georg Winkler junior.
2000 Expansion and modernisation of the main shop in Ellmau
2005 Opening of the 1st Ellmau-Hartkaiserbahn location
2015 Opening of the new Ellmau-Hartkaiserbahn location over 1,000 m²
2019 Opening of the new conversion of the main shop in Ellmau