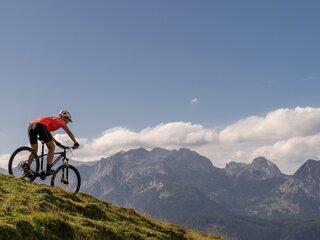 Bike rental
Book online and save 10 % 
Your partner for bike rental
#rentabike
We have the appropriate equipment for you to be able to use the unique offer of the bike infrastructure on the Wild Kaiser optimally.
With the very latest rental material from INTERSPORT Rent you can enjoy your precious days on the Wilder Kaiser even more.
Our highly trained team are happy to help you with choosing your equipment and matching this perfectly to your riding skills. In addition to a large range of mountain bikes and e-bikes, INTERSPORT Rent also offers you unbeatable servicing.
Drop by and find out for yourself at one of our shops.